Onondaga & Cathedral Cave Photo Tours
Every Month in Season!
Onondaga Cave Photo Tour

This little gem, "Going Up" by Eric Spradling, is from Onondaga's Photo Tour
This is the beautiful Queen's Canopy. "Going Up" may be a reference to heading to the top to see the Lily Pad Room. A photo tour through Onondaga Cave lasts three hours, where all of the cave lights are turned on, and amateur to professional photographers may take their time and their tripod to explore much of the cave's natural beauty.
Cathedral Cave Photo Tour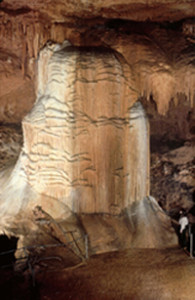 Photographers are invited to join park staff on a photo tour of Cathedral Cave. This extended tour will include extra time for photographs to be taken at specific locations along the tour route. Those wishing to attend must make reservations in advance as the tour is limited to 30 people. No equipment will be provided by the park, so please bring your own, including easily movable lighting equipment. Conditions in the cave include concrete walkways and metal handrails, cool temperature (57 degrees F) and high humidity (nearing 100 percent). There are no lights in the cave, so bring a flashlight. Please dress appropriately (warm clothes, no heels/flip flops). Cave tour fees apply.
---
Are you interested in having your photo of Onondaga Cave State Park shown on our website or the park calendar? If so, email us with your information and your digital photo attached (large web format). Photo will be credited to you and/or your business, and any proceeds would go to Onondaga Friends Association, to be used in Onondaga Cave State Park.
---
Tour Dates & Reservations