It's all about the Bats!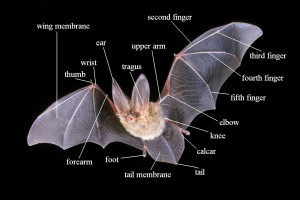 Bats are such wonderful winged creatures. They are pretty mysterious because of their lifestyles.  One fun way to get to know more about bats is an annual event we are a part of.  Bat Fest is held each year and is co-hosted by The World Bird Sanctuary and Onondaga Cave State Park.
Are you curious about White Nose Syndrome & what that means for our bats?
Called White-Nose Syndrome (WNS) because of the tell-tale sign of white fungus Geomyces destructans gathered around the bat's nose, the fungus appears to disrupt the normal patterns of hibernation, causing bats to arouse too frequently from torpor (temporary hibernation) and starve to death through excessive activity. The symptoms associated with WNS include loss of body fat, unusual winter behavior (including flying), damage and scarring of the wing membranes, and death.  WNS started in the United States in a cave in New York and has since spread from East to West, now in Missouri.
As of this writing, Onondaga Cave State Park's bats do not have any sign of WNS.  Please learn about this problem, be respectful of caves that are closed, and change your shoes, clothing, backpacks, etc. when going to different caves.  For more info read through the FAQs on WNS.
There are many other magnificent critters in the cave and around the trails of OSCP.  We are in the works of building out our brand new site and will be adding more information about all of nature's critters that can be found at Onondaga Cave State Park.